David Nance, D.D.S.
Dr. David Nance was born and raised in Springville, Utah. After completing his education, he returned home to start his dental practice in 1986. He is a graduate of Springville High School, and then continued his education at Brigham Young University where he earned degrees in Microbiology and Chemistry. He served an LDS mission to South Korea, and then married his high school sweetheart Stacy Felix. They moved together to Omaha, Nebraska, where he earned his D.D.S. degree from Creighton University. As he came home to practice he was honored to be in the same medical building with his father, James Nance M.D., and his brother Steven Nance, M.D.. Steven and David shared an office together for 30 years with quite a unique partnership with a dentist and an OB/GYN. As time past, Steven's son Jeff joined his OB practice, and David's son Eric joined the dental practice to form Nance Family Dental.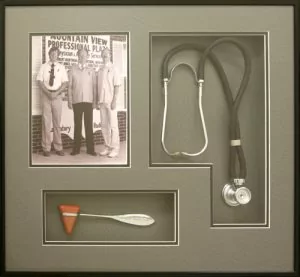 Dr. Nance and his staff are dedicated to excellence in dental care, and to provide a comfortable office experience. Nance Family Dental offers a wide scope of dental treatment, and can care for any age patient. For your convenience we also offer the services of an in house Oral Maxillofacial Surgeon. Dr. Nance is a member of the American Dental Association, and the Provo District Dental Society. He is also a member of the Academy of General Dentistry, and has been named one of America's Top Dentists by the Consumer Research Council of America. He is also active in dental education, and is on the Advisory Board for the Utah College of Dental Hygiene, and on the Advisory Board for the MTECH Dental Assisting Program. Dr. Nance is married to Stacy Felix Nance, and they have five children, four daughters and one son. All four of his daughters are dental hygienists, and have all had the opportunity to work with their dad. His son Eric is also a dentist, and has joined his father in Nance Family Dental. The family has a love for all things "Disney", and it is one of their favorite places to go. That love has filtered into the office, and nearly every room has some sort of Disney connection. There are two G scale trains that run through the office, giving the practice a fun atmosphere. The office building was designed with some of the architecture of the old Springville Train Depot. Dr. Nance is very family oriented, and he and his staff have a lot of fun together. Come meet us and see our practice and become a part of our dental family.

Eric D. Nance, D.M.D.
Dr. Eric Nance was born and raised here in Springville, Utah. He graduated from Springville High School and went on to serve an LDS mission in Caracas, Venezuela which resulted in him being fluent in Spanish. He then continued his Schooling at Utah Valley University where received his degree in Spanish. He went from there to Roseman University located in South Jordan, Utah to receive his D.M.D. degree.
After Graduating dental school Dr. Eric moved to Ketchikan, Alaska where he worked as a dentist for 2 years before returning home. Alaska gave him the opportunity to do a lot of oral surgery, root canals, and emergency dentistry. He also learned a heck of a lot about salmon, crabs, and the local bears.
He then returned to Utah and joined his Dad here at Nance Family Dental. Where he has been since 2016.
Eric is married to his awesome wife Heather and has 4 little girls that love to travel back to Alaska with him.
Practice history
Dr. David Nance is a native of Springville, Utah.. He earned degrees in Microbiology and Chemistry from Brigham Young University, and then received his D.D.S. degree from Creighton University School of Dentistry in Omaha, Nebraska. Upon graduation he headed home and opened a Family Dentistry practice in Springville. He began in 1986 and practiced in the Mountain View Professional Plaza, where his father James Nance M.D., and brother Steven Nance M.D. also practiced. In 1998 Dr. Nance built an office at 285 E. 400 S. in Springville, and the two brothers started Doctors Depot. Dr. David Nance's son Eric graduated from Roseman University of Health Sciences School of Dental Medicine in 2015. After completing his education, Dr. Eric Nance took his family and practiced General Dentistry in Ketchikan, Alaska. In December 2017 he joined practice with his father, and the practice name was changed to Nance Family Dentistry. Dr. Eric Nance is fluent in Spanish, which is a welcome addition to the office. Dr.David Nance also has four daughters, and all are Dental Hygienists'. They have all had the opportunity to work in the family practice.