David Nance, D.D.S.
Dr. David Nance was born and raised in Springville, Utah, and after completing his education returned to home to practice. He is a graduate of Springville High School, and then went on to Brigham Young University where he received degrees in Microbiology and Chemistry. He served an LDS mission to Korea, and married his high school sweetheart Stacy. He then earned his D.D.S. degree from Creighton University. As he came home to practice, Dr. Nance was honored to be able to be in the same office building as his father, Dr. James Nance, M.D., and his brother Steven Nance, M.D.. Dr. Nance and his brother Steven still share the same office, a unique arrangement with a dentist, and an OB/GYN.
Dr. David Nance is proud to welcome patients to a practice where real caring and compassion combine with education and 25 years of experience to provide the best in dental care. His philosophy of service to the patient along with the support of a hand-picked, knowledgeable team creates excellence in both patient care and clinical results.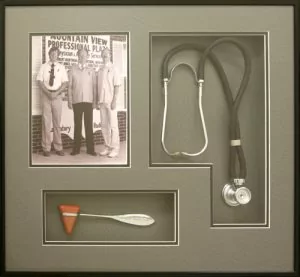 Dr. Nance, and his staff are dedicated to a lifetime of continuing education so that you may receive the very best of care. Their office is laser certified for cutting edge Periodontal treatment and surgical procedures. Dr. Nance is a member of the American Dental Association, and Utah Dental Association. He is also a member of the Academy of General Dentistry, and has been named as one of America's top Dentist's by the Consumer Research Council of America. Their office also serve as evaluators for Clinical Research, where new products are tested and recommended to dentists worldwide. Dr. Nance also is a member of the Program Advisory Committee for Utah College of Dental Hygiene.
Dr. David Nance is married to Stacy Felix Nance, and they have five children, four daughters and one son. Two of the daughters are Registered Dental Hygienists, and one is in Dental Hygiene school at present. Dr. Nance's son is also now attending dental school, and will join the practice in the future. If we are not working, we are usually at a high school game, or in Disneyland. Our family are all Disney "addicts". Dr. Nance's family took their family trips there starting in the late 1950s, and the tradition has stuck. One of the Hygiene rooms is all Disney themed. Also while growing up, Dr. Nance's family would take Sunday drives up Spanish Fork Canyon. The favorite part of the trips was watching the trains come down the canyon. This love of trains has also spread into the dental office, as our train winds through the waiting room and treatment areas. The office was designed with some of the architecture of the old Springville Train Depot. Dr. Nance is very family oriented, and the staff of his practice works together like family. It is our goal to treat our patients that way.

Eric D. Nance, D.M.D.
Dentistry has always been a part of Dr. Eric Nance's life. Dr. Eric Nance's father, Dr. David Nance, is also a dentist, and Dr. Eric started assisting his father and helping with emergencies at a young age. Dr. Eric was a part of the very first graduating class at Roseman University, the first dental school in the state of Utah. After graduation he moved his little family to Ketchikan, Alaska to work as a dentist. He knew that Alaska would give him a opportunity to enhance his skills, and he spent nearly two years there. Alaska gave him the opportunity to do a lot of oral surgery, root canals, and emergency dentistry. He also learned a heck of a lot about salmon, crabs, and the local bears.
Dr. Eric joined our practice in November, 2016. He is excited to help his patients achieve lasting oral health and create beautiful smiles. At home, Dr. Eric has three little girls. When he isn't serving patients, Dr. Eric loves to hunt and fish in his spare time.